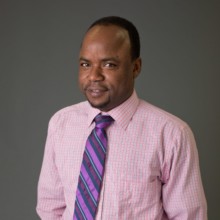 Jama Mohamed
2016 40 Under 40 Honoree
Local Government & Civic Leaders
Program Director
Maine Immigrant Refugee Services
When they were relocated to the United States, Jama and many fellow Somali Bantu refugees first lived in larger cities like Denver and Chicago. These locations proved to be quite an adjustment from the small villages Jama and his peers grew up in. Many decided to move to L/A, viewing it as a smaller community and a safe place to raise their families. When Jama and his family arrived in Lewiston, however, they soon discovered a gap in services to support assimilation into the local culture and saw many Somali Bantu youth dropping out of school as a result. To address this urgent need, he co-founded the Somali Bantu Youth Association. Today, Jama works with Maine Immigrant and Refugee Services (MIRS) as Program Director for Youth Literacy and Citizenship Services. His job responsibilities include program development, education and management of the organization's numerous volunteers. He finds his career most rewarding because it enables him to help others build promising futures for themselves and their families.
Jama's favorite thing about living in L/A is the wealth of friendship he has found here—friends who support him in achieving his goals through teaching and encouragement. He is a big fan of local cuisine, often stopping at 84 Court Pizza & Restaurante for some "amazing" bruschetta or enjoying a family meal at Applebee's. He spends most of his free time with his lovely wife and their children and often hosts large get-togethers with extended family members. Some of the local organizations he is most passionate about include the Trinity Jubilee Center, Lewiston Public Schools and the Sustainable Livelihoods Relief Organization (SLRO). The SLRO uses farming as a means of helping immigrants, refugees and asylum-seekers alike build sustainable livelihoods by growing and selling produce.
Having served on the Lewiston School Committee, Jama is honored to be the first African-born elected official in Lewiston. With the Committee, he helped establish new policies in efforts to ensure that our local schools are providing the best education possible to their students. He gives back to L/A through his work with MIRS, helping immigrants gain their citizenships and teaching them the importance of being involved in the community. While he prefers to focus on what he can do to help L/A thrive in the present, Jama plans to continue building relationships within the community in the future and hopes to see more of its people coming together across lines of diversity and enjoying each other's company. With more communal conversations, he believes the people of L/A can work and learn together to build something great.