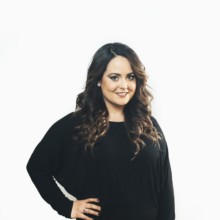 Marlo Hewitt
2017 40 Under 40 Honoree
Creative Geniuses
Owner & Cosmetologist
Hair Station
Marlo Hewitt's mother and grandmother were cosmetologists, so it is no surprise that she was curious about the profession.
"Once I starting doing friends hair in high school for fun, I discovered the creative freedom and artistic side of things and instantly knew it was for me," said Hewitt who opened her own studio, Hair Station, in July of 2015.
Prior to that, Hewitt earned a bachelor's degree from the University of Southern Maine and worked a semester toward her master's degree.
"I soon discovered that sitting behind a desk wasn't for me and I set out to make my hairdressing passion a reality. I love making people feel beautiful and confident. When you feel confident, you can conquer the world!"
Hewitt admits that she has a passion for interior decorating and creative projects and she loves working on her house. This coming June, she is getting married and looks forward to many happy years raising a family.
"I grew up in Mechanic Falls and have always traveled to Auburn and Lewiston for both work and play and when it came time to pick a community to buy my first home, Auburn seemed to be a perfect choice," said Hewitt. "Once I settled into the city, it was an easy decision to set up shop for my business right down the road from my new home."
She says, "LA is a community that is large enough to serve all of our needs, but small enough to know one another."