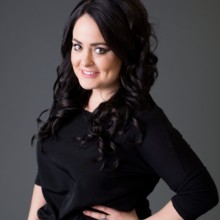 Marlo Hewitt
2016 40 Under 40 Honoree
Entrepreneurs
Owner/Cosmetologist
Hair Station
Marlo is a third generation hairstylist, growing up with a mother and grandmother who both worked cutting and styling hair in their home-based salons. As a highly artistic person, she quickly realized her natural talent for hairstyling and decided to begin her journey by pursuing a business degree. She earned her bachelor's degree from the University of Southern Maine. During her first semester as an MBA student, Marlo decided she could no longer sit behind a desk and set out to make her passion for hairdressing a reality. Last year, she opened Hair Station Hair Salon on Turner Street in Auburn. She is responsible for overseeing the daily operations of the salon, but her primary focus is customer satisfaction. Marlo describes her work "behind the chair" as "transforming art onto living canvases, making people look and feel their very best."
Growing up in Mechanic Falls, Marlo and her family frequently traveled to L/A for shopping, dining, and most other activities. When it came time to buy her first home, she found Auburn to be the perfect fit with its close proximity to her family and potential to support her new business venture. She feels she has "the best of both worlds" living on a dead-end street in Auburn where she enjoys a private backyard and is just minutes away from the city. Her favorite things about L/A are its sense of community and its size. As she says, "the cities are large enough to serve you but small enough to know you!" You may find her at Heidi's Brooklyn Deli enjoying a quick meal. For a night out, she frequents Mac's Grill, Gritty's, Orchid, and more.
Marlo loves spending time with her family and friends. She's fond of relaxing nights at home with her many "fur babies," and is just as happy going out on the town to dance, dine and enjoy life. Beyond her work at the Salon, she explores her passions for interior decorating and the arts. As a vegetarian and an animal lover, Marlo supports the Society for the Prevention of Cruelty to Animals (SPCA). Another cause close to her heart is breast cancer awareness, as the disease took her grandmother a short time ago. To give back to her community, Marlo works through her business to raise money to help L/A families in need during the holidays and is an avid supporter of local animal charities.
Marlo is extremely happy with the life she's building for herself and plans to continue her work in L/A. She aspires to eventually expand her business and hopes one day to settle down with a family of her own.