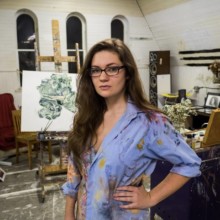 Alexandra Hood
2017 Nominee
Creative Geniuses
Olin Arts Center Operations Supervisor
Bates College
Nominator's Comments:
"Alexandra Hood is a total art genius and it doesn't take long to see why. Alexandra earned her B.A. from Elmira College, where she worked very hard, graduating in her Junior year, having been bestowed with 4 Elmira College Award Medals for her contribution to the college and community. She currently works in her hometown of Lewiston, Maine. Focusing on realistic oil paintings and graphite portraits, Alexandra frequently explores the subjects of lust, power, human connection, and emotional transparency in her work. The depiction of money flowers, a popular theme in her recent paintings, references the delicate relationship between materialism and our expressions of power and love. Alexandra's portrait drawings manipulate the veil placed between the subject and the viewer, expressing or shielding the underlying fragments of our natural selves and peeling back the layers of personal identity. Alexandra has been included in multiple solo and group exhibitions between Maine, Upstate New York, and New York City. Alexandra currently works at Bates College as the Olin Arts Center Operations Supervisor. She works daily in the arts programs there and is part of the Arts Collaborative team.
In the past few years, Alexandra has been on the LA Art Walk 2016 Committee, has done ""Live Painting"" at local art events and was an artist on display at the following events: LA Art Walks, Area Artists Exhibit at USM LAC, For The Love of Art, The Stars Look Very Different Today, Artist of the Month Solo Show at Center Street Dental and many others.
For more information on Alexandra and her ""Art Genius,"" please refer to her website: AlexandraHood.com. She has an impressive art resume and is a fine young woman and representative of our area."