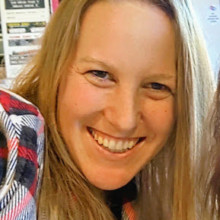 Alyssa Morgosh
2022 Nominee
Best in MISSION-BASED ORGANIZATIONS
Program Manager
The Root Cellar
Alyssa has a relentless and deep love for Lewiston and especially the families of The Tree Streets. At work, in personal time, or through her church, she has structured her life seeking to follow the simple command: "to love your neighbor as yourself."
As the Program Manager at The Root Cellar | Lewiston, she has overseen both qualitative and quantitative growth of each program offered. More than that, Alyssa sees every moment as an opportunity to teach, encourage, challenge, and lift up those around her. This skill has cultivated something beautiful – a thriving, diverse, and interdependent community of neighbors, growing and learning together.
Alyssa has created Rooted Youth Mentoring, serving children and teens in Tree Streets in a group mentoring format. This program serves more than 250 youth each year and includes summer and after-school opportunities for elementary students. Local teens have benefited greatly from Lew Crew Youth Work Experiences, creating 40+ jobs for local teens in 2021 and already 40 teens in 2022. Lew Crew Teens are given the chance to work, play, grow and gather together through training and work experiences like Peer Mentoring, Common Grounds Cafe, and Lew Crew Lawn Care.
Alyssa also supports the development of The Root Cellar's Tea Time English, Fruitful Sewing, and Abundant Neighborhood Food Share groups. Combined, more than 2500 neighbors are served each year through her management and leadership.
The neighbors of the Tree Streets have been blessed by her, but she regularly talks about the many blessings she has received from them. Again, her skills and gifts have given way to a beautiful, thriving community of neighbors.
-J. Furrow