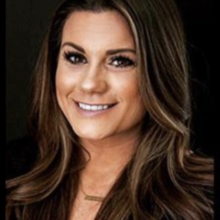 Amanda Boucher
2023 Nominee
Best in BUSINESS
Owner/Stylist
Haven, LLC
Amanda Boucher decided in 2018, in her twenties, to dream big. In a time when most young people are looking to be free of risk or over-commitment, to try things out but not invest, she left security and routine for the hard work and unknowns of starting her own business. She found a beautiful old farm house to lease, and piece by piece, room by room, has turned it into Haven – the thriving, beautiful hair salon and spa on 196 in Lisbon.
Haven means even more than just a successful business though. It was been a dream of Amanda's since she was a small child, growing up in Lisbon, watching the community around her. In these last five years the salon has grown to include seven business partners and has won the trust of not only the Lisbon community she grew up in, but an ever-increasing circle of clients from surrounding towns and communities.
The reason for her success is in part due to her incredible quality and skills – the customer is always right, and she goes to great lengths to ensure this every day. Her weddings and events book far in advance and she is constantly innovating her offerings to make people, and events, look and feel as magical as she knows they are.
But even more, Haven's success is the result of Amanda's way of being- she has made a living of connecting with people, creating lifelong relationships with her clients. She cares about them beyond the salon chair – creating special events and activities at Haven focusing on fashion, health, and even financial security, bringing her own family in to get to know her clients, and encouraging her clients and employees to do the same.
Amanda has older clients that can no longer drive, and no longer come into Haven. Where this might mean the end of a vital part (however small) of them feeling themselves, their haircut – Amanda will drive to them, making them feel and look like a million dollars without even leaving their homes.
In short, the way in which Amanda cares about her community – by making them look beautiful – represents in an outside way what she does for people's hearts every day – spread beauty and connection. This is how community is built – one small connection at a time.