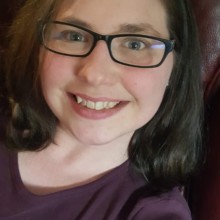 Annelie (AJ) Gosselin
2022 Nominee
Best in HOSPITALITY
Innkeeper/Executive Chef
Wolf Cove Inn
As the Innkeeper and Executive Chef at the Wolf Cove Inn Annelie Gosselin (AJ) is a superb candidate for this year's "Finest Under 40" award. She is a superior performer and a stand-up person admired by all. AJ commands the respect of all staff of the inn as well as the owners of the Inn.
In back-of-the-house operations, she provides leadership and direction to the majority of the staff of the Inn for more the 3/4 of the year. This includes managing and leading kitchen, housekeeping, and front desk staff. She responds to common maintenance issues as well as emergencies with little to no supervision. She can be counted on to take the initiative on anything that needs attention. She is unafraid to independently make day-to-day decisions and implement improvements to operations without needing to get approval. In that context, she is always mindful of the bottom line and makes good decisions on investing the resources of the Inn.
In front-of-the-house operations, she is an outstanding ambassador of the Inn with guests and potential guests. AJ is routinely cited by guests in 5-star reviews of the Inn. She has terrific interpersonal skills in interacting with guests of the Inn, ensuring guests have an outstanding experience when staying at the Wolf Cove Inn. She is terrific in her ability to bring in business with her phone sales skills. She's also a supremely talented chef who consistently delivers exceptional experiences for our wedding/elopement couples partaking of either our Ultimate Romance Dinner or Intimate Cocktail Reception offerings.
AJ is well deserving of recognition with this award.
-R. Forsberg