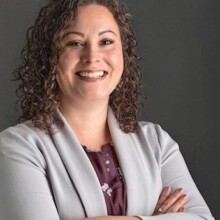 Becca Smith
2023 Nominee
Best in BUSINESS
Branch Manager
Adecco Staffing
Becca's career as a Branch Manager at Adecco Staffing and her role as an HR professional have been nothing short of exemplary. Her leadership and management skills have consistently impressed me and have undoubtedly contributed to her branch's outstanding performance and growth. Becca possesses a unique ability to set and execute a strategic vision, which has not only driven her branch's success but has also significantly impacted the broader HR and staffing industry.
What truly sets Becca apart is her innovative mindset. She is always looking for new and improved ways to streamline operations and enhance the candidate and client experience. Her willingness to embrace technology and leverage it for the benefit of her branch and clients exemplifies her forward-thinking approach.
Furthermore, Becca's commitment to professional development is remarkable. She has continuously pursued certifications, training, and education to stay at the forefront of HR and staffing trends. Her dedication to her own growth serves as an inspiration to those around her.
In conclusion, Becca Smith is undeniably a "Finest Under 40" candidate who embodies excellence in HR and staffing. Her leadership, vision, ethics, and commitment to innovation make her a standout professional. I wholeheartedly recommend Becca for this prestigious recognition, as I am confident that she will continue to make significant contributions to our industry and community for years to come.