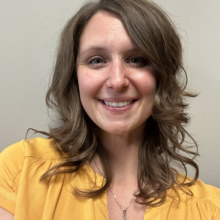 Bria Duncan
2023 Nominee
Best in FINANCIAL SERVICES
Director of Member Relations
Community Credit Union
I've worked with Bria for many years and she has held several roles in the financial industry over her career. In the past year in her new role as Director of Member Relations she has helped implement a Contact Center, managed a growing Member Services team and co-led an upgrade to a new digital banking platform for our Credit Union. Bria has great attention to detail and always prioritizes the member experience in every interaction. She has trained five different Relationship Specialists over the past year as we established the Contact Center and specific roles within it. Her patience, willingness to listen, and ability to embrace ideas on process efficiencies as well as thinking outside the box despite being in a heavily regulated industry has helped her very adaptable team grow and learn together. Bria is a leader for Community Credit Union and believes in our people helping people philosophy. She can also be seen at many of our community events connecting with the community she serves. So proud to be a co-worker of Bria's and I think she is definitely a worthy candidate for Best In Financial Services!
Bria is very passionate about her role. She is an excellent leader and all around wonderful woman. She is empowering, kind hearted, intelligent, funny and very selfless. Bria does her best to assist others in being successful in their role! She is very deserving of this award!
Bria's knowledge of the financial world is astounding. She is a natural education and truly wants others to succeed in all aspects of their life. Her bubbly, sunny disposition is genuine and she will always be there to support her employees and her members of the credit union. She demonstrates this with her conversations and actions each and every day!