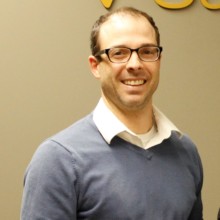 Chris Hanks
2017 Nominee
Volunteers
Credit Analyst II
Mechanics Savings Bank
Nominator's Comments:
"Chris grew up in Androscoggin County, a Poland High School graduate. He went off to college out of state for finance, traveled abroad and brought his experience back to LA. He dabbled in teaching locally for a bit and found his home back in the financial world by accepting a credit analyst position at Mechanics Savings Bank.  From day one Chris' energy has been contagious. He has been an asset to the bank and to the community at large. He has vision for development of the youth of Androscoggin County. Chris lives in Turner with his wife and two sons. I am amazed by how much effort he puts into his job, his volunteer work (see the list below) and being an involved father. On top of all of that he helps with his in-laws family business, the Great Outdoors, in his "spare time".
At Mechanics we are very proud of our reputation of our employees giving back to the communities we serve. I am nominating Chris because I feel he lives up to that reputation better than anyone I know. I am proud to work with him and look forward to the impact he is  making and will continue to make on the LA community.
Volunteerism ( I know there are some I am missing):
Tree Street Youth Board Member & Treasurer, Junior Achievement Board Member, Volunteer Instructor, Sandcastle Volunteer Reader , LA Metro Chamber Education & Workforce Development Committee, Previous Advocates For Children Finance Committee Member (2016), RMA Risk Management Association"