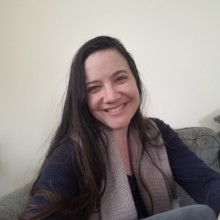 Courtney O'Brien
2022 Nominee
Best in MISSION-BASED ORGANIZATIONS
Violence Intervention Program Manager
Safe Voices
"I love my job!" is not what you would expect to hear from a woman running a men's Batterers' Intervention Program class, but Courtney is constantly talking about how much she enjoys the work she does.
Courtney O'Brien is an amazing and inspiring human, advocate, instructor, and mom. She works at Safe Voices, but not with survivors as you may expect. While Courtney no longer works directly with those who have survived domestic violence, all her work is focused on keeping survivors, and the rest of our community, safe. Through education and accountability, Courtney works tirelessly with a population that most would consider daunting and downright scary. Working with people who have perpetrated domestic violence against a partner can be exhausting, intimidating, and thankless. Despite that, Courtney love the work she engages in on a daily basis. Courtney goes to class each day, hoping to get the best out of the attendees. She asks thought-provoking questions of her students, and asks them to not only face the reality of their actions, but to hold themselves accountable for those actions, and to grow into a more compassionate human being who doesn't choose to use violence as a means to an end.
In addition to running BIP at Safe Voices, Courtney also engages in social activism on a regular basis, attending rallies and protests for things she believes in. She is also a single mom, and brings her daughter to these events with her, thereby helping to raise a more emboldened, more vocal, and overall stronger generation of women.
In the past, Courtney has also served as an advocate for sexual assault survivors, and has worked interviewing children following allegations or disclosures of sexual abuse.
Courtney is an incredibly strong young woman, and deserves to be acknowledged for all she does for the Lewiston Community.
-A. Howe