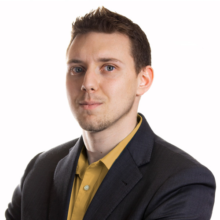 Dave Perlman
2020 Nominee
Creative Geniuses
Owner, Photographer, Videographer
Horizon Visual Media
Nominator's Comments:
"Dave Perlman has been a part of the LA region for many years providing various types of clients with professional and artistic imagery. He got his start with real estate photography, and for the agents and brokers who were lucky enough to work with him, they benefited from a dramatic improvement in the quality of marketing their listings.
In regard to movement, Dave takes to the skies to capture aerial images for many different projects. His careful skill as a drone pilot has allowed him to create a library of beautiful aerial imagery of Lewiston Auburn. Many of these images have been shared with the public through a variety of videos, promoted by the organizations that represent and strive to improve the public image of the Lewiston Auburn area.
Dave constantly aims to enhance his production value for both his own interest and for the benefit of his clients. He continuously educates himself on techniques, keeps up with growing creative trends and reinvests in camera equipment.
When he's not holding a camera, Dave is most likely holding a guitar or microphone. As an accomplished musician, Dave frequently plays to audiences in LA, Southern Maine, and beyond delighting and contributing to an entertaining nightlife.
Personally, Dave prefers to fly under the radar, but I believe it's time for the community recognize him for the asset he is: a creative genius." – C. Michaud, South Portland, Maine