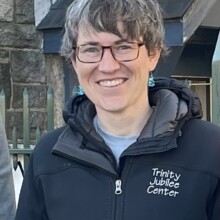 Erin Reed
2023 Nominee
Best in MISSION-BASED ORGANIZATIONS
Executive DIrector
Trinity Jubilee Center
We are writing to enthusiastically nominate Erin Reed for the Uplift LA "Finest Under 40 Award" in recognition of her outstanding leadership and dedication during her tenure starting out as a volunteer and now being the Executive Director of the Trinity Jubilee Center. The Trinity Jubilee Center has touched the lives of countless people in Lewiston and across Androscoggin County providing food, shelter and resources to anyone in need. Trinity resources include both helping people with barriers to progress and independence as well as a Refugee Integration Program that assists new Mainers with a variety of much needed services.
Erin Reed has quietly and without fanfare not only demonstrated exceptional commitment to her role but has also grown the Trinity Jubilee Center, a beacon of hope. Erin's unwavering dedication to the community is evident in her tireless efforts to expand the center's programs and services, ensuring that it remains a lifeline for vulnerable individuals and families. Never one to be in the spotlight – her quiet and determined demeanor belie a huge heart and focused passion that helps those who need it the most. She is truly incredible.
Erin Reed's 19-year journey at Trinity Jubilee Center is a testament to her unwavering commitment to improving the lives of our community's most vulnerable members. Under Erin's leadership, Trinity Jubilee Center has achieved remarkable milestones, including the most recent announcement of the building of a 5500 s.f. stand-alone building that will ease the burdens of the current space allowing the staff to focus on what is important: caring and compassion.
We wholeheartedly endorse Erin Reed as a deserving recipient of the "Finest Under 40 Award" in the Best In Mission-Based Organizations category. Her exemplary leadership, dedication, and tireless efforts have left an indelible mark on our community, and her contributions are truly deserving of this recognition.
Thank you for considering Erin Reed for this well-deserved honor.