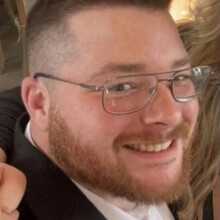 John Knowles
2023 Nominee
Best in TRADES
Owner, plumber hvac technician
Forest Brooke Plumbing and Heating LLC
Louis Nizer once said " A man who works with his hands is a laborer; a man who works with his hands and his brain is a craftsman; but a man who works with his hands and his brain and his heart is an artist." John Knowles truly encompasses all of these qualities. He is a laborer, he is a craftsman, he is an artist, but overall — he is a good honest young man trying to make a living the old fashioned way, which is all we can really ask for in current day.
John has been working in mechanical services since he was a young boy right by his father's side at his family's previously owned company, Knowles Mechanical. Here he started to learn the value of hard work at a young age and was truly able to dive deep into the "why" and "how" things worked. John's father, Keith, is known to pick fun and say "yeah, John's been working since he came out of the womb." But I think that truly goes to speak on how long John has been in the trade and how much he valued the work he was able to do even at such a young age. John was able to start his experience with plumbing and HVAC work here and later went on to KVCC to take a few courses and got his CETP Gas and EPA 608 certification which then allowed him to purchase and handle refrigeration products and therefore practice HVAC in the State of Maine.
John became a Master Plumber in 2020 and took an opportunity to work for Johnson and Jordan Mechanical Contractors. Although Knowles Mechanical did do both residential and commercial work, John knew he would gain experience on a much more high level than he was used to and this gain even more experience in the various fields he loved. John started out at Johnson's and Jordan as a plumber and later on took a position as a refrigerant technician. In this position, he gained a lot of experience installing heat pump systems, VRV and VRF systems and all the way but not limited to normal heat pumps, heaters and coolers. In this short time from 2020-2022, he stepped out of his comfort zone and in return was able to spread his wings and become even better in his trade. But, even that didn't seem to be enough for John's yearn to grow and gain even more knowledge.
A dream and passion of John's was always to run his own company, as he had watched his father do for so many years. In 2022 John received his Journeyman Oil license and decided he finally had enough certification and experience to try things on his own. After talking things over and first creating a well thought out plan of all the "what ifs" and fear of the unknown, John went out on his own and started his company "Forest Brooke Plumbing & Heating" in October of 2022.
Over the last year, John has built his business from the ground up. And when I say that, I'm not kidding; there were days he couldn't get his very seasoned starter work van to get much ground underneath it. But, still he persevered. As a one man show, work didn't stop when all the installations, maintenance, estimates, and field work stopped; John still went home and put in hours of office work from quoting, Quickbooks work, ordering from supply houses, and single handedly putting 300,000 miles on his home Keurig machine to fuel himself. Okay okay, maybe that last part was an exaggeration but man can he drink his coffee.
I'm the last year, John has unfortunately been faced with his wife having various hospital stays due to some health issues. The most recent one has had her out of work and hospitalized for a month and a half. In this time, John has gone to work running his company day in and out and rushing back to sleep on a cot by his wife's side. While at the hospital, he continues to do his office work well into the late hours of the night and early morning. God bless the nurses who bring him his coffees, he does keep it to a 2-3 minimum with them though.
All in all, John Knowles is a man you want to do work with. Whether you're getting a new heat pump, having your toilet replaced, getting maintenance on an existing machine, or simply just looking for a someone with compassion and empathy; he's your guy. John Knowles is a laborer, craftsman, an artist and so much more; John Knowles is one of LA's Finest Under 40.