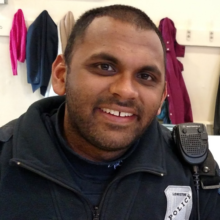 Joseph Philippon
2020 Nominee
Emerging Leaders
Patrol Officer
Lewiston Police Department
Nominator's Comments:
"I have had the pleasure of knowing Joe for several years in a number of capacities.
As an employee of the Harward Center for Community Partnerships at Bates College, I interact on a daily basis with community partners at non-profit organizations. Many of these organizations are located in our downtown and serve our most needy populations. I often hear from these partners about Joe and the positive energy and influence he has when dealing with difficult situations and individuals. He has become a positive role model for many of our youth. As a person of color, Joe is able to understand and relate to the struggles that many of our underrepresented downtown youth experience in a way that other officers may not. He is a trusted and valued voice in our community. Community partners want Joe at the table when discussing important issues affecting our downtown.
As the Mayor, President of the Lewiston City Council representing Ward 5, and State Representative, Joe and I have worked closely together on building a relationship with our immigrant community. Early into my second term on the City Council, Joe invited me to attend monthly meetings with him at the Bartlett Street mosque. I was immediately taken by the level of trust that both the elders and members had for Joe. It was clear that their relationship had been built upon mutual respect. He continues his work in this area, most recently engaging other members of the state legislative delegation in these meetings and expanding his reach to the Lisbon Street mosque. He has also taken on a leadership role in the planning of World Refugee Day. Given the Lewiston Police Department's commitment to recruiting officers from our immigrant community, I view Joe's work in this area as a critical component to making that goal a reality.
On a personal level, Joe is kind, funny, and warm. He and his wife Katie are active members of our community. He is engaging and big-hearted. He listens carefully to what people have to say and responds accordingly. He represents the City of Lewiston with dignity and humility." – K. Cloutier, Lewiston, Maine