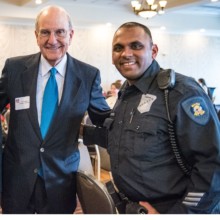 Joseph Philippon
2017 Nominee
Local Government & Civic Leaders
Police Officer
Lewiston Police Department
Nominator's Comments:
"A member of the Community Resource Team at LPD. Member of boards – Head Start, Sandcastle Services. He is a key resource for the Somali community. He is actively sought after for his expertise on boards for children's resources."
"I have had the pleasure of knowing Joe for over five years in a number of capacities. As an employee of the Harward Center for Community Partnerships at Bates College, I interact on a daily basis with community partners at non-profit organizations.  Many of these organizations are located in our downtown and serve our most needy populations.  I often hear from these partners about Joe and the positive energy and influence he has when dealing with difficult situations and individuals.  He has become a positive role model for many of our youth.  As a person of color, Joe is able to understand and relate to the struggles that many of our underrepresented downtown youth experience in a way that other officers may not.  He is a trusted and valued voice in our community.  Community partners want Joe at the table when discussing important issues affecting our downtown.
As the President of the Lewiston City Council representing Ward 5, Joe and I have worked closely together on building a relationship with our immigrant community.  Early into my second term, Joe invited me to attend monthly meetings with him at the Bartlett Street mosque.  I was immediately taken by the level of trust that both the elders and members had for Joe.  It was clear that their relationship had been built upon mutual respect.  He continues his work in this area, most recently engaging the state legislative delegation in these meetings and expanding his reach to the Lisbon Street mosque.  He has also taken on a leadership role in the planning of World Refugee Day.  Given the Lewiston Police Department's commitment to recruiting officers from our immigrant community, I view Joe's work in this area as a critical component to making that goal a reality.
On a personal level, Joe is kind, funny, and warm.  He and his wife Katie are active members of our community.  He is engaging and big-hearted.  He listens carefully to what people have to say and responds accordingly.  He represents the City of Lewiston with dignity and humility."
"Since 2013, Officer Philippon has been assigned as a community resource officer. On virtually a daily basis, Officer Philippon is actively engaged with community partners and local non-profit organizations. He serves on the Lewiston-Auburn Juvenile Collaborative; he represents the LPD at Lewiston Downtown Association meetings, Neighborhood Housing Meetings, and Chamber of Commerce events.
Many of the organizations who seek Officer Philippon's assistance are located in our inner city and serve our neediest populations. These groups routinely praise Officer Philippon and the positive energy and influence he has when dealing with difficult situations and individuals.  As a person of color himself, Officer Philippon is able to understand and relate to the struggles many of our downtown youth and recent immigrants experience.
Since education is also a big part of his job, Officer Philippon has taught a police orientation course for new Mainers. He was a member of the "Welcoming Maine" group, whose goal was to bridge the gap between native-born Mainers and our Somali population. He has also worked with the New Mainer Community Collaborative (NMCC), an association of service providers focused on addressing issues confronting the refugee and immigrant community in Lewiston-Auburn.
He started and is the lead program officer for "Project Lifesaver." This program's goal is to protect older members of the community who suffer from Alzheimer's disease or some other form of dementia. He works closely with the hospitals and the Auburn Police Department on this project.
In addition to his many community resource duties, Officer Philippon also serves as the lead officer for LPD's recruitment efforts. He is the main point-of-contact for new patrol officer candidates and he represents the department at job fairs statewide. Given the LPD's commitment to recruiting officers from our immigrant community, Joe's relationship with our new citizens is critical to making that goal a reality.
As I indicated earlier, Officer Philippon has a passion for teaching. He gives regular presentations on "Operation Hot Spot" and on "Reality of Crime vs the Perception of Crime in Lewiston." He received a standing ovation from over 200 people after he and the former chief of police gave a presentation on this topic at a recent Chamber of Commerce breakfast.
One his most recent successful ventures was securing partnerships with local businesses to sponsor free outdoor movie nights for families held last summer. The six movie nights that were held throughout the city were very well attended and were a huge hit with the community!"