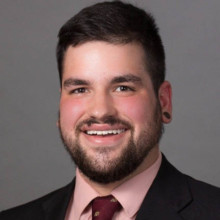 Mitchel Roberge
2022 Nominee
Best in CIVIC & MUNICIPAL SERVICES
Attorney
Peters & Roberge, Attorneys at Law
Mitchel graduated from the University of Maine School of Law in May 2020. While attending college, during his days off he worked under the direction of Tom Peters, Esq. After graduation, he was excited to continue his career working for/with his role model and mentor Thomas P Peters II & Associates. After passing the bar exam on his first try, Mitchel was sworn in as an attorney in Androscoggin County with only a few others who received a special invite to attend a swearing-in ceremony in December of 2020. In October 2021, at the age of 27, Mitchel acquired/purchased the practice now known as Peters & Roberge, Attorneys at Law located in Lewiston. He is excited to continue many years serving the people of Lewiston Auburn and surrounding areas where his knowledge, dedication and commitment continue to make him an asset if his field.
Mitchel has always been looking for ways to engage himself more within the Lewiston/Auburn area. He has recently became involved in local government working as a treasurer for a local candidate running
for State Senate. Mitchel is a positive leader and actively involved within his Church – Pathways Vineyard where every weekend he can be found doing what he loves playing with the band during mass. His strong personality and energy allows him to share his passion of music within a community very near and dear to his heart.
-Anonymous