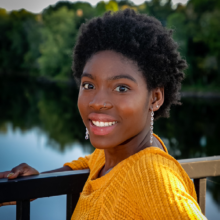 Myolene Gelinas
2020 Nominee
Volunteers
Full Time Student
Nominator's Comments:
"Myolene Gelinas is one of the most active and enthusiastic young people I know! She is an honor student at Lewiston High School and the LRTC Culinary Arts School and has a part-time job at a local supermarket.
Myolene is actively involved in many school activities and has received numerous awards such as National Honor Society, National Technical Honor Society twice, and a Bates College Center Award at the Lewiston High School Night of Excellence.
Myolene was recently honored by the Auburn Exchange Club for her Community Service. She also volunteers regularly at her local church in many capacities and assists with Lewiston/Auburn Rotary events.
Myolene has a strong desire to help people with difficult circumstances and has decided to join her church Youth Group on a trip to the Dominican Republic during her April school break. While she is there, she will be helping to teach school, arts and crafts, and work on a building project and she must raise the funds on her own to pay for the trip, which she is doing, because she is so committed to helping others who are less fortunate." – E. St. Pierre, Lewiston, Maine