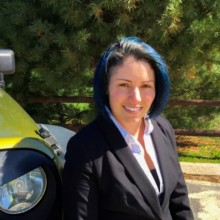 Natalie Michaud
2018 Nominee
Emerging Leaders
Branch Manager
Community Credit Union
Nominator's Comments:
"Natalie continues to build herself as an asset to the team of Community Credit Union as well as the community. As a coworker of Natalie's, I've witnessed her interactions with the members of her team and the entire team; as well as the members of our Credit Union. Her commitment to her team, her work and our community continues to grow and shine in her everyday endeavors and behaviors.
When I think of an emerging leader, I think of someone who continues to push themselves to be better, more well-rounded, gaining knowledge by experiences as well as through self-initiated learning and one who continues to share their experiences with others. Natalie does this day in and day out as a Branch Manager as well as an individual.
She is a recent graduate of the Lewiston Auburn Metropolitan Chamber of Commerce's ALDI Program, has and still leads Community Credit Union's Recycle Day event which provides safe and secure shredding for the entire community as well as a way for the community to 'Do Your Part' by recycling items that might normally end up in a landfill and she continues to attend various community events and volunteer to assist and take part in almost all Credit Union led initiatives and community events.
Natalie leads her branch with kindness and an upbeat attitude. She comes into work everyday with a mission to make not only her staff, but her members feel happy to be there. She leads Community Credit Union on their annual Recycle Day, allowing members of the community to dispose of recyclable goods. She works alongside her staff, never expecting them to complete a task that she would not do herself. Most days you can find Natalie bouncing back and forth between her office and the lobby of the branch, welcoming and assisting all members like they are a personal friend, not just another face. When a new staff member joins the Credit Union, Natalie's branch is there first stop for training. She gives these employees the foundation and knowledge to be successful. Additionally, she is always there to help her staff grow and feel confident in their roles. All and all, Natalie's management style is an important part of what makes Community Credit Union such a great team to be a part of."