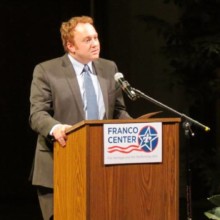 Nathan Libby
2017 Nominee
Local Heroes
State Senator
Maine State Senate
Nominator's Comments:
"I had the pleasure of serving on the Lewiston City Council with Senator Nate Libby for two years, where he was a tireless advocate for our community on both the State and municipal levels.
Recently, I have seen Nate advocate for two very important local initiatives.  The first involves the universally-accessible playground slated to be installed at Marcotte Park.  This playground will encourage interaction and enrich the lives of Lewiston's residents by offering children of varying abilities the opportunity to play together without barriers, and to learn social skills in an integrated, more natural, stimulating and motivating environment.  Fundraising for this project has  been challenging, but Nate has persisted, most recently engaging the services of Sublime House Media to create a video, and creating a GoFundMe page that has already raised over $3500.
The second involves the convening of a Pedestrian Safety Forum in response to three pedestrian deaths in Lewiston over the course of a year.  At the request of Senator Libby, School Committee Chair Linda Scott, and myself, the forum was held on November 16, 2016 at Lewiston City Hall, to allow the public to voice their concerns and ideas in addressing pedestrian safety issues within the City.  A report is currently being compiled and recommendations will be presented to the Lewiston legislative delegation, the Lewiston School Department, and the Lewiston City Council in the near future.
Finally, in my role as the Council representative to the School Committee, I have also had the opportunity to discuss issues related to our school department with Senator Libby.  Many of those conversations have resulted in his sponsorship of bills to help address those issues and to create a public education system worthy of our children.
Nate has a strong moral character and a wonderful sense of humor.  He is thoughtful, honest and fair.  He is also smart, generous, and dedicated.  He listens to his constituents and takes a stand on issues that are important to our community.   Nate has demonstrated long-range thinking and represents Lewiston with integrity and enthusiasm."