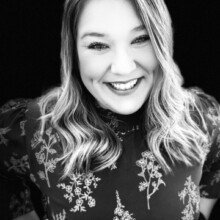 Nikki Withrow
2023 Nominee
Best in BUSINESS
Senior Marketing Manager
Androscoggin Bank
Adjunct Faculty, Business Department
Central Maine Community College
Nikki earned her Bachelor's of Science in Leadership and Organizational Studies degree in 2012. She is halfway through her Masters of Science in Marketing degree. Nikki is currently an adjunct instructor at Central Maine Community College teaching an Introduction to Digital Marketing course.
Nikki excels at her job here at the Bank and manages all of the Banks Marketing efforts including running our social media accounts, event planning, website management, graphic design, advertising, communications, etc. She is an AVP here at the Bank and is a leader in the organization.
On top of her work accomplishments Nikki is very involved in different non-profit organizations in our community. She sits on the Local Organizing Committee for Dempsey Challenge (for 10 years running), is Vice President of the Board of Directors for Operation Reboot Outdoors (an organization serving our Veterans and Law Enforcement Officers) and is on the planning committee for the Special Olympics- Maine Annual Golf Tournament (for 4 years running).
And most importantly Nikki is a mom of a wonderful 3 year old Holden, and a very active member who lives and works in the Lewiston Auburn Community.