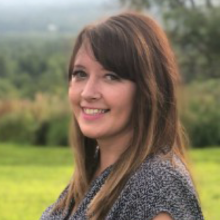 Stefaney Goupille
2020 Nominee
Volunteers
Care Coordinator Manager
Grand Rounds
Nominator's Comments:
"For several years Stefaney worked with inspiring attention and care at Androscoggin Home-care and Hospice as an excellent team member, making people feel their best, building relationships and going above and beyond to care for people in a meaningful way. Stefaney currently works at Grand Rounds as a Care Coordinator Manager and has carried all of these attributes forward. In her role as a manager, Stefaney is a source of enthusiastic support, energy, guidance and good humor to her team. She connects, listens, and responds with tangible action steps and clearly wants to help others grow and be successful. Through her work she and her colleagues are providing an important service by helping people access higher quality health care. Stefaney and her team contribute to the great culture and the results that Grand Rounds is creating, as the company continues to grow as a significant employer in the area. Stefaney takes time to lead weekly meditation sessions for her co-workers. She is also a licensed reflexologist and has provided healing treatments for many. Stefaney is raising a strong happy daughter with her husband. She empowers people and improves the quality of life for so many. Stefaney is always pushing herself and making sure everyone around her is thriving." – S. Kruszewski, Auburn, Maine

"I am honored to nominate Stefaney for 40 Under 40 because she is the most caring and driven person I know. I've had the privilege to work alongside Stefaney for about three years and from day one she proved to be accountable and exceeded our organization's expectations. In this short amount of time Stefaney has quickly risen up the ranks and is now leading the charge on a high profile contract. Stefaney's commitment to her work and her tenacity to solve big problems has awarded her this success.
Above Stefaney's professional success she is also a mother and amazing person. Stefaney loves her community and is actively involved in things like the Dempsey Challenge, holistic healing and parenting support resource groups. Stefaney's determination to be great and her commitment to the people in this community is what I admire most about her and why I feel privileged to tell everyone how fantastic she is. Without a doubt I can tell you Stefaney will do ground breaking things in the future." – N. Batieste, Lewiston, Maine