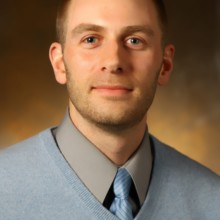 Tyler Tyburski
2017 Nominee
Health & Wellness
RN, Lead Care Manager, Population Health
Community Health Options
Nominator's Comments:
"Tyler Tyburski, RN, is a Lead Care Manager at Community Health Options, a nonprofit health insurance company based in a refurbished Bates Mill in Lewiston. As his supervisor, I have observed that he leads by example and inspires others through his actions. He is passionate about health and wellness yet refreshingly pragmatic, resourceful, and creative in his approach.
Tyler built our National Committee for Quality and Accreditation (NCQA)-compliant disease management program from scratch. He enthusiastically embraced this opportunity with a strong working knowledge of chronic condition self-management strategies, and he employs a person-centered approach using engagement strategies that honor individual needs and preferences.
Tyler is an influential leader on Health Options' Wellness Committee. He continuously researches the literature, looking for cutting-edge strategies to engage our Members in self-directed, effective chronic condition management and healthy lifestyle choices.
Tyler's natural curiosity and innovative approach to wellness program development extends beyond episodic wellness challenges. He is an active contributor to Health Plan benefit design. Tyler is the liaison to our 24/7 Nurse Helpline and our health literature partner. He contributed to our Health Risk Appraisal that uses a consumer-centered approach in eliciting information and conveying feedback to respondents. He champions many wellness initiatives for our own employees and for all Health Options Members across the state of Maine, including but not limited to tobacco cessation programs, weight management support, cancer screening, and patient safety-medication adherence initiatives.
Tyler was instrumental in developing a wellness challenge that inspired individuals to nurture their emotional and spiritual well-being during the winter holiday season, taking it beyond the typical 'physical activity' challenge. His contributions to numerous health initiatives and wellness campaigns significantly contributed to Health Options' receiving the Maine Psychological Association's Psychologically Healthy Workplace Award and a Best Places to Work in ME Award.
He closely collaborates with an interdisciplinary team within and beyond our organization. Tyler has volunteered for the Dempsey Challenge and for targeted CMMC and St. Mary's wellness events. He is an active participant in nearby Oxford County as Committee Member of the Oxford Wellness Collaboration Healthcare access work group. While contributing his expertise to this initiative he is also enhancing his potential as a health and wellness leader by increasing his understanding of how collective impact can be leveraged in our work in Androscoggin County and beyond.
Tyler is one of the most positive, kind, and respectful people I have ever met. I am honored to nominate him for the 2017 Uplift LA 40 Under 40 Award!"