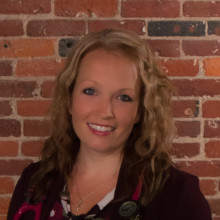 Angelica Estes-Lebrun
2020 40 Under 40 Honoree
Health & Wellness
Former Lung Cancer Navigator
Central Maine Medical Center
Nurse Practitioner
Central Maine Medical Center
Angelica Estes-Lebrun is a caregiver making a difference in people's lives.
"For the last three years I have coordinated the Early Lung Cancer Screening Program here at Central Maine Medical Center which entails working with primary care providers referring patients to our program who currently use tobacco or who have quit within 15 years, and who have no existing symptoms, to be screened for lung cancer. Overall, my job is as an educator to inform patients of the importance of preventative screening and to make sure they understand what their results really mean for them."
When asked what led her to a healthcare career, Angelica said that "Giving back to my community has been something that I have been motivated to do since I was a child. I always dreamed of becoming a physician but through my many years of schooling, and five degrees later, I finally feel as though my life dream has been fulfilled by becoming a nurse practitioner. I genuinely want to be a leader and educator to the community that grew up supporting me. It is a passion of mine to help others and continue to strive to do so every day."
Her passions away from work include working with tobacco cessation programs spreading the word on what programs are available. In addition, she is an advocate for the Greater Androscoggin Humane Society.
"My husband jokes that I am the dog whisperer," said Angelica. "I certainly have a soft spot for all things furry."