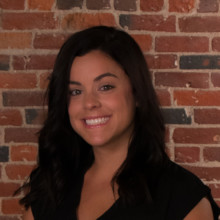 Jhanáe Laplante
2020 40 Under 40 Honoree
Emerging Leaders
Mortgage Banker
USA Mortgage
Jhanae Laplante helps people build a future.
"I am a mortgage loan officer and I help people in the state of Maine get financing for first, second, investment, and seasonal properties."
A nominator adds, "Jhanae is an incredible woman, who bends over backwards to provide for her clients. She works so hard to make sure her clients are set up in the best financial situations (which isn't always easy) and she's always upbeat. She willingly shares her knowledge by hosting events such as a first-time home buyers' course along with operation reboot for service veterans. I think she is a leader in the industry and will continue to prove that."
Having lived her entire life in LA, she particularly enjoys the diversity, the history, the people and the local businesses.
Her free time has her hanging with friends and family while enjoying the outdoors and exercise. She can also be found dining at Sonder and Dram, Baxter, L/A Nutrition and Gipper's. She's passionate about the work being done by Angel Wings and the Salvation Army and helps out with other organizations differing from year to year.
She believes it is important to give back to local businesses with the understanding that supporting these small businesses is crucial and the effort helps grow the community.