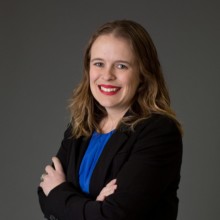 Chantel Pettengill
2016 40 Under 40 Honoree
Building LA
Owner
Pettengill Academy
It was her own struggle to find childcare that aligned with her philosophies about early childhood development that led Chantel to start her own early learning child care business in her home three years ago. Today, Chantel is the proud founder and owner of Pettengill Academy with her husband, Zachary. Chantel's family has a long history of living and doing business in Lewiston, and opening Pettengill Academy was her way of carrying on the tradition. As a business owner, Chantel is responsible for daily operations, increasing enrollment, managing employees, and other administrative duties for the Academy. She loves her job because it allows her to interact with many different families, help children grow and learn, mentor her teachers and, most importantly, soak up the daily baby cuddles.
Chantel's favorite thing about L/A is the sense of community. She loves living in Lewiston, with the local grocery store nearby and many things to do with her children; Chantel feels Lewiston is a safe and diverse place to raise her family. Some of her favorite places to eat in L/A include Mac's Grill, Gritty's and Davinci's for family date nights and Fishbones and Marche for date nights with her husband. Her favorite breakfast spots include Forage Market and Hurricane's Café & Deli. During her free time, Chantel loves spending time with her family walking and snowshoeing on the numerous trails that L/A has to offer and enjoying the festivals and art walks in Lewiston.
Chantel is a member of the Joint City Charter Commission, an organization looking to combine L/A in efforts to strengthen both cities. She also participates on the board of directors for the Maine Association of Educating Young Children. Apart from her board activities, Chantel does her best to give back through her business whenever possible. One of the biggest challenges Chantel sees facing L/A is what she calls the "it always has been" attitude. She hopes to see changes in city ordinances to better attract and facilitate growth in business. Another important piece to the puzzle for Chantel is to get rid of negative attitudes in our community and encourage our youth to find their voice and get involved.
In ten years, Chantel will be the parent of two teenagers. She and her husband hope to have established five or more locations for Pettengill Academy in both Maine and in other states. They also aspire to diversify their business and to continue creating and executing new development projects. Chantel plans to work together with her husband to make Lewiston more business friendly and to encourage growth for L/A.