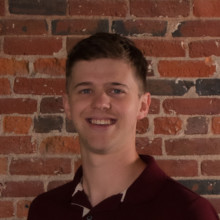 Christopher Lobley
2020 40 Under 40 Honoree
Entrepreneurs
President
C. Richard's Leather
Christopher Lobley wishes to bring back the art of leather products made right here in Maine.
He started his business, C. Richard's Leather, when he was only 15 years old and he continues the work with passion and pride.
"I love connecting with people and creating the products that they love. I bought a house in Auburn and my family lives in Poland. I grew up here," said Christopher. "I greatly enjoy the amazing opportunities in LA! So many great people, and businesses to enjoy. Not to mention the awesome Maine weather."
In his free time, he enjoys spending time with family and friends and he sings, boats, bikes and develops new skills. He's a big supporter of the East Auburn Baptist Church and Compassion International saying that "they both do a fantastic job of reaching the community and spreading love and joy around the world."
What challenges does he see in the LA area?
"I believe LA could use more businesses and jobs. There are too many empty spaces, waiting to be filled with employees. A possible strategy might entail government and local incentives and special tax breaks for small businesses and startups. Also, having a network of small business groups, meeting by category or business type would be fantastic!"
His plan for ten years from now is to have met many new people, made many new friends, and learned many new concepts.
"I also hope to have several thriving businesses in that time. The leather goods company is just the beginning. I believe that hard work, and steady growth is a key to success!"