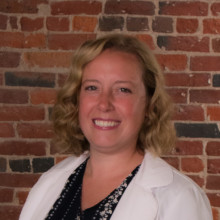 Dr. Ashlee H. Vandiver
2020 40 Under 40 Honoree
Entrepreneurs
Audiologist & Owner
Red Maple Audiology, LLC
It was either fate or careful planning that allowed Dr. Ashlee Vandiver to return to her hometown to set up an audiology practice.
"I always wanted to be in the medical field and during undergrad work at The University of Maine, while registered as a pre-med major, I enrolled in the Intro to Audiology course. I was able to shadow at two different audiology centers and realized the unique patient experience audiology provides was the right career path for me," said Vandiver.
She completed her doctoral program at Towson University in Maryland, where she continued to have the experience of close-knit patient connections and really become an integral member of a patient's healthcare team.
"My passion with audiology continues to be the connections I make with my patients. I can honestly say many of my patients are like family," said Ashlee. "I opened Red Maple Audiology in Turner this year, to allow myself the ability to always put my patients hearing healthcare first. Red Maple Audiology is patient and family focused and offers a unique family atmosphere."
She takes special pride in her work that allows her to help a baby hear his parents voices for the first time, to help a young child hear his teacher or classroom friends or to help an elderly patient stay connected with their family conversations.
Away from work, Ashlee spends time with her family; her husband and three boys ages two, five and eight. Weekends are usually spent at youth sporting events and she loves spending time nearby at Bear Pond, gardening, and cheering on local and New England sports teams.