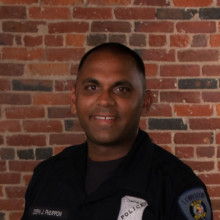 Joseph J. Philippon
2020 40 Under 40 Honoree
Emerging Leaders
Detective
Lewiston Police Department
It is not often that a police officer & detective is described as kind, funny, warm, engaging and big hearted. Others say that he listens carefully to what people have to say and responds accordingly and that he represents the City of Lewiston with dignity and humility.
But that essentially describes Joe Philippon.
"I graduated from the University of Maine at Augusta with a bachelor's degree in administration of justice and was hired by the Lewiston Police Department in 2005 and have been a patrol officer for fifteen years," said Joe. "Today, I am responsible for overseeing our Project Support You program which provides mental health, overdose and homeless outreach services to those in need within Lewiston. Also, I liaison with service providers, community groups and members to identify needs and to develop solutions as well as provide education on active threat assessments, perception vs. reality of crime in Lewiston and manage our community policing academy."
He is also assigned to the Community Resource Team where he enjoys working on strengthening community partnerships and identifying areas to improve service.
He enjoys coaching baseball and he works on organizing events in the community that are low barrier for children and families. Perhaps, mixing both work and community involvement, he always tries to keep himself available to the community, so they always have access to the police department and to someone they know.
Philippon spends one night a year in the media spotlight as a guest judge for the Sandcastle Clinical and Educational Service's major fundraiser Maine's Got Talent.