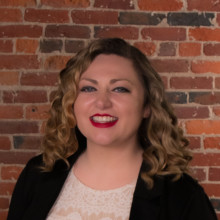 Kirstyn Birkbeck
2020 40 Under 40 Honoree
Emerging Leaders
AVP of Deposit Operations
Community Credit Union
Kirstyn Birkbeck has been called a "Superstar" by one of her nominators. In fact, her nomination came from three different individuals who collectively wrote 1100 words about her accomplishments.
Here's a sample of the comments.
"If being a superstar isn't enough, Kirstyn also lives and breathes the credit union philosophy of "People Helping People." She volunteers for nearly every event that the credit union holds or participates in including the Turner One Lunger Snowmobile races, Community Recycle Day, St. Mary's Commit to Get Fit, the Lake Auburn Half Marathon, the 4th of July Holiday Parade, the Twin Cities Holiday Parade and more. She also prides herself on being involved in financial literacy programs in our community, holding sessions with the local Girl Scouts and teaching credit union financial classes at Central Maine Community College."
And another.
"Kirstyn has grown into a wonderful leader and I think I speak for everyone who knows and works with her that she is going to make a great credit union CEO one day."
And from a proud mother.
"My daughter was born with hypertrophic cardiomyopathy and she has had a defibrillator pacemaker in her chest since she was 15. In a world where she could have let this disease take her life, she chose and still chooses to fight to want more to leave her mark in this world! She is simply amazing, and she has the ability and agility to do anything she wants! She has the drive, the class, the sass, and the brains!"