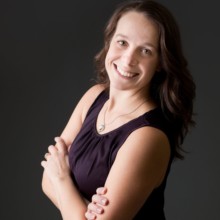 Emmie Jones
2016 40 Under 40 Honoree
Economic Development
Photographer/Owner,
Emmie Jones Photography
Emmie Jones' professional journey did not begin with photography. As a first semester nursing student, she quickly realized that her true passion was to someday own her own business. A native of Greene, Emmie decided to move out of state after she finished her schooling. It didn't take long for Emmie to grow homesick, as she missed her family and friends and decided the L/A community was the only place where she could imagine raising a family of her own. Shortly after her children were born, Emmie found herself spending more and more time behind the camera. In 2010, she opened her first photography studio in Lewiston, Maine.
Running her own photography studio requires Emmie to be versatile and to possess a varied set of skills. Like many sole proprietors, Emmie is not only a photographer but is also charged with marketing, community outreach and public relations, bookkeeping and administrative work, as well as staying up-to-date with the wonderful and constantly evolving world of digital photography.
Outside the studio, Emmie spends a large portion of her "free time" with her family. Emmie and her husband, Shawn, can often be found with their children enjoying many of the numerous free community activities and festivals that L/A has to offer. Emmie and her family love that every season in L/A offers new things to do both indoors and outdoors. They enjoy skiing in the winter and hiking, biking and swimming in the summer. Some of Emmie's favorite local places to eat include Forage Market, Fuel, Rails, and Margaritas, her "ultimate guilty pleasure."
Emmie's passion for photography introduced her to the idea of giving back to her community by supporting homeless and at-risk students in their efforts to stay in school. Through the Lewiston STEP Program, Emmie takes senior pictures for students who are on track to graduate but cannot afford professional photos on their own. She is also involved with a national nonprofit called "Now I lay Me Down to Sleep," taking bereavement photographs for families facing the loss of an infant child. Emmie feels it is important for her to give back to those in her community and beyond to give thanks for the blessings in her life.
In the future, Emmie hopes to still be doing photography and aspires to launch her own photo project designed to boost self-esteem in children. Emmie would like to see continued efforts to improve the image of our community and plans to pitch in however she can. She supports L/A by not only running a thriving local business, but also by investing in its future helping local high school seniors succeed.