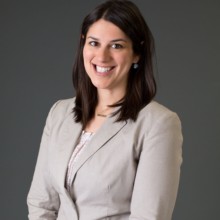 Aimee Labbe
2016 40 Under 40 Honoree
Emerging Leaders
Manager of Special Events & Development
The Patrick Dempsey Center for Cancer Hope and Healing
Aimee's career in fundraising for nonprofits began by accident. Needing part-time work to support herself in college, Aimee took a job with the Student Union, a meeting and event venue for student groups on campus. After participating in planning for several student events and activities through the Student Union, she spent nearly four years working for Bates College in the Alumni and Parent Programs Department. Through her experience in college and working at Bates, Aimee built a solid foundation in the areas of fundraising and event planning. Today, she is the Manager of Special Events and Development for the Patrick Dempsey Center for Cancer Hope and Healing.
Born and raised in Lewiston, like many of her peers Aimee wanted to go away for college and make a life for herself in one of the "big cities." Attending college in downtown Boston, it didn't take long for her to grow homesick. She missed the strong sense of self and the feeling of belonging that she so enjoyed in L/A. Once she graduated from college, Aimee returned home and has remained in the area ever since. When she isn't working, she frequents many of L/A's popular food establishments like Marche, Fuel, Davinci's, and more. She loves the outdoors, whether she is snowshoeing in the winter or hiking and kayaking in the summer. Aimee and her husband share a passion for good food and drink and spend much of their free time exploring local breweries and restaurants. At home, Aimee's hobbies include spending time with her two dogs, Molly and Jack, as well as cooking, writing and binge-watching her favorite TV shows.
What Aimee likes most about L/A is its history. She loves to connect with family and friends by sharing stories of the local people and places from her childhood. Like many others, Aimee is excited by all the positive energy around her and loves to see the progress it brings to our community. She is an ardent supporter of the Greater Androscoggin Humane Society and is also involved with the Hope Haven Gospel Mission and Androscoggin Home Care & Hospice. Aimee believes that with good fortune comes a responsibility to help those in need.
In the future, Aimee envisions herself raising a family in L/A while continuing the work she is most passionate about. She finds her work with the Dempsey Center to be extremely rewarding and is motivated by being part of a collaborative effort to improve the lives of people in the L/A area who have been affected by cancer. Aimee believes that the positive energy and hard work of our citizens will continue to bring progress and success to the L/A community.