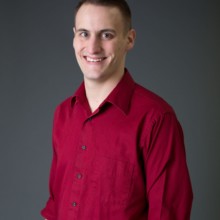 Derrick Lacasse
2016 40 Under 40 Honoree
Education
Music Teacher
St. Dominic Academy
Derrick's favorite thing about his work is watching his students experience what he calls "aha" moments, where all the hard work they've dedicated to learning to play a new instrument, or to sing a difficult song, comes to fruition. As the music and chorus teacher for St. Dominic Academy, the never ending opportunities to share in the excitement of these accomplishments are Derrick's primary source of motivation. He is also presently serving as co-moderator to the school's Drama Club and will be directing its production of James and the Giant Peach this spring.
Derrick grew up in L/A and attended Edward Little High School in Auburn. He headed to New York for college, obtaining his degree in Music Education at SUNY Potsdam. When he graduated, Derrick returned to L/A to be near his family and start his career. When not at work, he may be found delighting in his favorite sushi roll at Bua Thai in Lewiston. In the summertime, he loves to get outdoors and explore local areas like Thorncraig Bird Sanctuary, and is also a fan of playing tennis. Skiing is one of his favorite activities during the winter months. Naturally, his hobbies also include singing and playing the piano.
Beyond his career at St. Dom's, Derrick utilizes his talents to give back to the L/A community. He works with Community Little Theater, a volunteer organization and one of the oldest continuous community theaters in the State of Maine. The mission of Community Little Theater is to provide education and exposure to the art of live entertainment by putting on both musicals and non-musical productions. As a CLT volunteer, Derrick participates in various shows and often acts as musical director when needed. He started working with CLT when he was in high school and hopes to expand his involvement in the future. He also volunteers with local summer youth theater camps with fellow 40 Under 40 winner, Vincent Ratsavong. For Derrick, witnessing the growth of these summer programs over the last few years has been "an amazing experience." He is also a private voice coach for local students from many different schools in the L/A area and loves to see his students sharing new musical talents with their peers and motivating them to excel.
Next year, Derrick is headed to Cambridge, Massachusetts, to obtain his master's degree in Music Therapy at Lesley University. Once he earns his master's, he plans to begin a career as a music therapist. He's not sure where he ultimately will land, but he is excited for the journey.