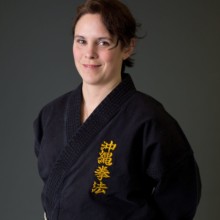 Sadie Landry
2016 40 Under 40 Honoree
Health & Wellness
Owner/Instructor
Pelletier's Karate
As a sensei at Pelletier's Karate in Lewiston, Sadie teaches a variety of classes including yoga, "yogalates," cardio kickboxing, and self-defense. As an owner, she focuses on marketing, community involvement and special events for the dojo. It is Sadie's philosophy that the most important part of her role as a teacher is her duty to act as a positive role model to all of her students and to provide them with the necessary tools to be successful members of society.
Sadie started practicing karate when she was thirteen years old as a means of exercise. Over the years she grew to love the art of the sport, developing a passion for teaching and competition. She is proud to have been the number one female competitor in the State of Maine in her late teens, but her favorite moment in her karate career was earning her black belt. Now that she has been teaching karate in the L/A community for over fifteen years, one of the most rewarding aspects of her work is seeing former students return to the dojo to enroll their children and grandchildren. She loves to see her students become more confident, stronger and happier in their lives through the practice of martial arts, yoga and general fitness.
Sadie has grown to love the State of Maine since she moved here from the Midwest with her family as a child. Her favorite things about L/A include the diversity of its people, the widespread energy to improve and grow, and the strong sense of community. She spends much of her free time with her family and friends playing indoor and outdoor activities. She enjoys camping and white water rafting and is a proud "hockey mom." Local places where Sadie likes to grab a bite to eat include Dubois Café and Rolly's Diner for breakfast, Pure Thai, Guthrie's and Forage for lunch and Pat's Pizza, Jasmine Café, and Fishbones for dinner.
To support her community, Sadie is actively involved in Montello and Geiger Elementary Schools by teaching karate, going on field trips and planning local festivals and events. She also serves as President of the Auburn Lewiston Exchange Club, an organization she feels provides many great opportunities to give back to the L/A area. Other causes she supports include the local Boys and Girls Club, Tree Street Youth and the Community Little Theater. In general, Sadie and her family are very active in a wide variety of community events.
Looking to the future, Sadie plans to remain active in teaching health and wellness. She hopes to become more involved in the L/A community, which she calls "the world's best kept secret," and to be a role model for all.