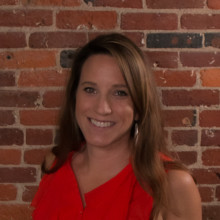 Erica Dostie
2020 40 Under 40 Honoree
Building LA
Client Relations & Marketing Manager
Austin Associates, P.A.
Erica Dostie says it like it is. "Lewiston/Auburn has been home forever. I live, work and play here!"
What does she enjoy most about the area?
"Community ties! It's incredible that I've been able to reunite with people that I attended high school with, reconnect with teachers from elementary school and gain new friends through networking and building relationships. We have a wonderful community- I feel incredibly lucky to be a part of it."
She started her career with Austin Associates, P.A. in 2011 as the Director of First Impressions.
"My favorite part of my career has been the opportunity to grow and take on new challenges and bring new ideas to the firm. It's rewarding to work for a company that values their employees and encourages a strong connection with our community."
In her current position, her focus is on the client experience, which includes being a point of contact for new clients, marketing and advertising as well as overseeing the firm's billing and collections.
"Externally, my priority is to build strong working relationships with clients and develop mutually beneficial social ties with members of the community."
As one of Erica's nominators said so eloquently, "Through her work with Austin Associates, Erica is deeply ingrained in our communities but she has also served on a number of non-profit boards and committees and has most recently revitalized the Androscoggin Chapter of the Maine Women's Network into a vibrant, networking and social group within our communities."