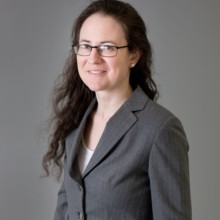 Erin Reed
2016 40 Under 40 Honoree
Building LA
Executive Director
Trinity Jubilee Center
Erin's official title at the Trinity Jubilee Center is Executive Director and Food Pantry Coordinator, but if you ask her, she will tell you that everyone at the Center carries several job titles. She describes her daily work as a "whirlwind" of various different tasks, from handing out food to helping people with job applications, in addition to her administrative duties. Serving more than 1,000 people every week through its meals program, food pantry, day shelter, resource center, and refugee integration program, the Center is always busy.
Erin began volunteering at the Jubilee Center when she was a teenager. In 2010, she found an opportunity to return to the Center working through AmeriCorps. At the end of her year with AmeriCorps, Erin was hired for her current position when another staff member retired. Her favorite part about her job is that it is always changing. One day she may be running food pantry distribution, the next she could be writing a grant, or helping someone apply for their green card. Erin also loves hearing from people who have gotten jobs or found places to live with the assistance of the Center, people she describes as "determined and grateful."
Growing up in a suburb just outside of Boston, Erin saw people move in, raise their children, and move out. There was no sense of a collective history or of community. Her favorite thing about L/A is that it is a real community where many people come to, raise their families, and stay. She loves that people in L/A have a sense of responsibility to their neighbors, like the Lewiston police officer who taught her how to shoot, her mechanic who volunteers to hang up posters for the Center fundraisers, or the friendly strangers who help unload her truck at the Center after hours. She is proud to have a job that is all about giving back to the wonderful community she lives in. Beyond her work at the Center, Erin serves on the board of directors for Community Concepts, another local organization that provides a myriad of services to our citizens who need it.
One of the biggest challenges Chantel sees facing L/A is the need for more jobs. Through the Jubilee Center, Erin has helped more than two hundred people apply for work over the last six months. A lot of people were hired, she says, but many still need work. Many of the people who rely on the Center for their meals and other necessities would much rather be working and providing for themselves, and Erin wants to help them realize their goals. The Career Center and Adult Education programs have done a great job providing job training and the Center is seeing more manufacturing and agricultural jobs opening up. She has her fingers crossed that the job climate in L/A will continue to improve.