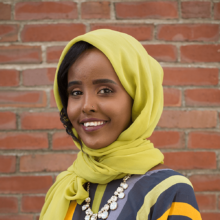 Hawo Abdille
2018 40 Under 40 Honoree
Emerging Leaders
Community Relations Coordinator
Lewiston Public Schools
As Community Relations Coordinator for the Lewiston Public Schools, Hawo Abdille notes, "Its a great pleasure to be working for the school that I graduated from and making a difference in the Lewiston Auburn community." Hawo describes her job as, "Providing cultural understanding formally and informally between schools and the New Mainer Community." She assists with parent information, education and training and provides advocacy for the community between schools and other agencies. Hawo also translates for school personnel to have effective communication with students and parents.
Hawo moved to Lewiston with her mother to be closer to family. She says, "The first couple of months it was hard to adjust to living in Lewiston, but once we settled in, I fell in love with the Lewiston lifestyle. I love how Lewiston is becoming a more diverse city and moving towards becoming a big city." She values the networking and business opportunities.
Hawo has a degree in Social and Behavioral Sciences from the University of Southern Maine/LA College. She is passionate about the Maine People's Alliance, Advocates for Children and Healthy Androscoggin, organizations she sees serving the populations she works with. She likes political events and supporting nonprofit agencies. She says, "I like to contribute or volunteer."
In her free time, Hawo likes Maine adventures such as hiking, and going to the beach. Favorite restaurants include Mother India, Davinci's, Fishbones and Guthries and her favorite coffee spot is Forage. She also likes taking on new responsibilities through her career in the public school system. Her hope is for the area to develop more jobs that will keep our youth in Maine and encourage businesses to hire more people of color.