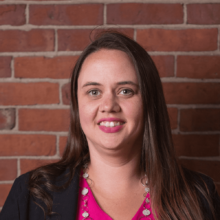 Heidi Bisson
2018 40 Under 40 Honoree
Volunteers
Student Finance Advisor
Purdue University Global
Heidi Bisson is the Student Finance Advisor at Purdue University Global where she works with students to help finance their education. Her career at Purdue began when it was Andover College. Heidi worked and completed her degree and moved to the Finance Office in 2011.
Marrying a Lewiston native brought Heidi to the area as she says her husband, "Couldn't see himself living anywhere else." Heidi found the small town sense of community she was used to in LA even though it is a larger community than where she grew up. For the future, her hope is that our youth will return after they go away to college and start a fulfilling life here. And personally, Heidi notes, "I see myself not far from where I am now. I hope to still be involved in the community, making a difference in someone's life."
Heidi currently makes that difference many ways, and says, "I am passionate about every cause that I am involved in. But my favorite is Junior Achievement. I have been a volunteer for JA for 5 years and really enjoy getting in the classroom and providing financial literacy to students, some of whom don't receive any type of financial literacy outside of what JA has to offer. It is really rewarding to know that you may be making a difference in a child's life just by teaching them the importance of making good financial choices."
In her free time, Heidi coaches girls youth lacrosse for Lewiston Recreation and volunteers with Lewiston High School Football Boosters. See her out at lunch at El Pocho's or with her kids at Gridiron or KP's Place.