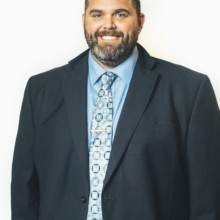 Jake Langlais
2017 40 Under 40 Honoree
Education
Principal
Lewiston Public Schools
Jake Langlais is set on making a difference for kids in Lewiston.
"Being a principal affords me the opportunity to work alongside highly capable professionals, students, parents, and the larger community," said Langlais. "Each day I work on various aspects of educational leadership to support others in the teaching and learning process."
"I got started in education at a young age with parents and a family that were not teachers by profession, but excellent teachers about life, and I spent many years as a therapeutic foster parent working with kids with behavioral needs," said the Lewiston resident with two kids in the Lewiston school system and a wife who teaches at Montello Elementary School. "As my career has evolved I have worked at Lewiston Regional Technical Center, with Jobs for Maine's Graduates, and taught business and computer applications courses locally."
While he's currently the Principal at Lewiston Middle School, he will take hold of the reins as Principal of Lewiston High School in the fall.
"Some of the favorite parts of my career have been the relationships that have developed through the nature of the work we do with teaching and learning. We have a lot of amazing people in our community and I have been blessed to learn from them in so many ways."
As for challenges that lie ahead, Langlais sees toxic stress and trauma in young kids and generational poverty as key issues.
"I believe the way we can overcome these challenges is through education."