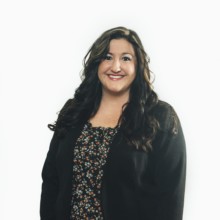 Melanie LaMore Gagnon
2017 40 Under 40 Honoree
Volunteers
Director of Shelter Services
Safe Voices
Melanie LeMore Gagnon offers support and hope for those who lose their voices.
As director of shelter services in the area, she is committed to ensuring that victims of domestic violence have a safe place to go so survivors and their children can live in a home, safe and free from violence. On any given day, you can find her writing various grant applications and reports, overseeing programs and staff, overseeing the maintenance of the shelter building, and supporting and empowering survivors residing in the shelter.
"I began my career in the social service field after graduating from Clark University with a bachelor's degree in Psychology. I then received my master's degree in Social Work from Boston College in 2008," said LeMore Gagnon. "For the past 14 years, I've worked with children, youth, and families of our local community."
While faced with the realities of human suffering every day in her work, she said the weight of that is enormous. However, she sees that the reward of this kind of work far outweighs the difficult days.
"I recognize that there is something incredibly humbling about sharing space with someone who has experienced something horrific and being a small piece of the puzzle to their overall journey," she reflects. "Being part of a collective effort to improve the lives of others in our community and empowering individuals to take back control of their own lives is truly an honor and some of the most inspiring work I've done in my career."