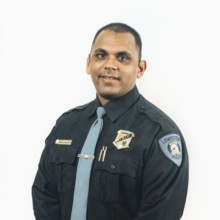 Joseph J. Philippon
2017 40 Under 40 Honoree
Local Government & Civic Leaders
Community Resource Officer
Lewiston Police Department
With a soft-spoken demeanor and engaging smile that lights up a room, it is easy to forget that Joe Philippon is a seasoned police officer who once worked patrol duty on the night shift.
"My interest in police work began during my senior year in high school after I had done a few ride a-longs with officers who were former students of my parents," said Philippon. "I graduated from the University of Maine at Augusta with a bachelor's degree in Administration of Justice and I now work on the Lewiston Police Department's Community Resource Team."
Philippon explained that this unit was created in 2010 to identify the needs of the community through information sharing and collaboration.
"I represent the department at community meetings such as the Androscoggin Community Collaborative, the Community Partnership for Protecting Children, Healthy Neighborhoods Planning Council, and the Lewiston- Auburn Alliance of Services to the Homeless," said Philippon. "Since outreach is an important part of my job, I act as the liaison to our new Mainer community and host monthly meetings with the two mosques in Lewiston. I also serve as the co-chair for the New Mainer Community Collaborative and as a member of the city of Lewiston's Immigrant and Refugee Planning Council."
Philippon is passionate about confronting the negative perception many people continue to harbor about Lewiston.
"The perception is that we have a high crime rate," admits Philippon. "In case you didn't know, Lewiston ranks #37 in the state for crime rate."