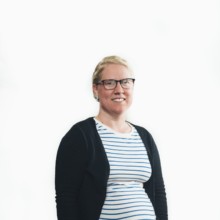 Katie Boss
2017 40 Under 40 Honoree
Health & Wellness
Health Promotion Manager
Healthy Androscoggin
Katie Boss clearly embraces the area.
"I moved from Boston to Lewiston-Auburn for work, but it took only three months in this community to realize that I had landed in my new home. My husband and I started looking for our first house soon after I started my job, and we've been happily settled here ever since," said Boss.
"When we first moved here, I was surprised by how quickly and easily my family was welcomed by so many different people in the community. I love that this is a city surrounded by a rich agricultural community, which allows us to enjoy the best of both worlds," said Boss, who is responsible for Healthy Androscoggin's lead poisoning prevention, nutrition and physical activity related grants, and staff.
"I am lucky enough to be very passionate about Healthy Androscoggin. This is a phenomenal group of people working hard to protect the health of residents across Androscoggin County, and contribute to the lively culture and community in the area. Public health is an essential field and one that we work hard to protect and promote."
Boss said that while growing up in Bangor, she often heard negative stereotypes passed around about Lewiston-Auburn. "The reality is, of course, so different, and helping people overcome preconceived notions about LA is a challenge that we as a community can work toward together."
Where does Boss see herself 10 years from now?
"Right where I am continuing the good work, enjoying my community and growing my family."