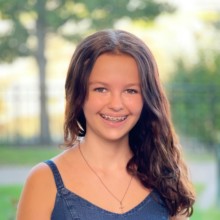 Kayden Boilard
2021 Finest Under 40 Awardee
Local Heroes
Founder
Kaydenz Kitchen Food Pantry
As written in her nomination: "Kayden started a project out of her home to feed community members struggling to make ends meet and has grown it into a family operated non-profit providing a variety of social supports to homeless and impoverished community members. Her philanthropic spirit and drive and love for our community at such a young age is inspirational."
The key words here are "young age." While many nine-year-olds worry about the challenges of entering fourth grade, Kayden Boilard worried about hunger in her community and founded Kaydenz Kitchen Food Pantry.
"When I was nine years old, I asked my parents if we could start a food pantry to help families in need. We started delivering food care packages out of our home back in 2017 and our organization has continued to grow. Now we have two locations to provide resources to the community. I love helping others and giving back to the less fortunate. Some of the homeless people I have met are so friendly and thankful."
Now, at the age of 13, Kayden is the youngest person ever to be honored as an Uplift LA Finest Under 40 Awardee.
She was born and raised in Lewiston and enjoys the diversity of people in its community. She loves growing up here and treasures the times walking around town and seeing everything it has to offer.
And what might she be doing ten years from now?
"I would like to continue working in the nonprofit world or possibly becoming a nurse, like my mom."
Watch out world. Here comes Kayden.