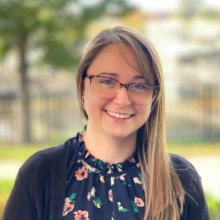 Kelsye Smith
2021 Finest Under 40 Awardee
Volunteers
Payment Services Specialist
Community Credit Union
Kelsye Smith, a payment services specialist at Community Credit Union, believes there are ways to promote social diversity in the LA Metro area.
"This challenge would start with our local businesses. Before COVID hit, we put on a block party in Lewiston where I saw many community members, volunteers, and businesses coming together to build each other up. People never stopped talking about the day and what it meant to the community. Most of us spend our time in the community working or we live here and do our business locally. If more people saw their own employer or local businesses pulling together (for the community good) that may motive others to do more so as well."
Kelsye Smith is a rising professional at the credit union. She recently completed a self-study program to become a certified financial counselor and she has used these skills to offer online financial literacy classes to individuals in Androscoggin County, at no charge, throughout the pandemic.
She supports the credit union mission of providing financial services to ensure stability for all members, employees, and communities at all stages of life. Kelsye also teaches basic financial concepts to first year students at Central Maine Community College.
Kelsye is a natural helper. You'll find her handing out hats and mittens to the needy during the winter, holding a recycling day event, or hosting fundraisers and volunteering for Ending Hunger, a cause that is very dear to her. She also directs her business to local farms, small boutiques, and local family restaurants.