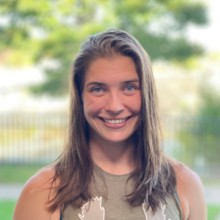 Rachel Nutting
2021 Finest Under 40 Awardee
Health & Wellness
Head Coach + Owner
CrossFit 196
Artist
Maine Art Glass Studio
Fitness meets creativity as Rachel Nutting dives into both worlds as the CrossFit Coach and owner of CrossFit 196 and as an artist with the Maine Art Glass Studio.
From a nominee: "Rachel is consistently learning, researching and coming up with new ways not only to improve her members health, but also others within the community. Rachel is driven to help anyone improve physically and emotionally. Rachel is an inspiration to many and a valuable resource for our community."
In her artistic side, there's Rachel's collection of glass artwork, where you will find many functional pieces, from lanterns to jewelry boxes and picture frames. Any creation of hers is sure to have bright colors and a sense of movement or flow.
"The first job I got after moving to California in 2005 was as a swim instructor, teaching kids how to swim and helping non-familiar adults get triathlon ready. Then I was introduced to CrossFit and eventually ran the program. Once I realized CrossFit was what I really wanted to do, I wanted to bring it home to the people I love the most."
Her commitment to health is a vital part of her life where you'll find her cycling, swimming, and hiking for personal development. With her husband, Jon-Michael Foley, she works with Central Maine Adaptive Sports to expand sports and movement for those with disabilities whether physical, mental, or behavioral.
She's also very concerned about health problems associated with poor diets and lack of exercise in the community. She'd like to see promotion and nurturing of programs that are in place to help educate the public on nutrition and the value of good movement.