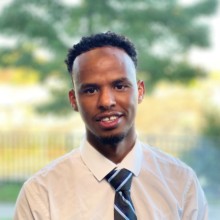 Mohamed Awil
2021 Finest Under 40 Awardee
Building LA
Co-Founder & Operation Manager
Community Staffing Partners Of Maine
His nomination for this award highlighted, "Mohamed Awil is an amazing young talent that's home grown and is transforming the city of Lewiston's job growth."
Born in Kenya, Mohamed Awil relocated to Lewiston and like many others who share a similar history of immigration, moving to Maine gave him the chance to start over.
"As a New Mainer who has grown up in two different parts of the world, I wanted to share my experiences with others while also learning from them. I have always believed in the power of diversity, but more importantly, I believe in the power of inclusion. While diversity, in its simplest form, is having respect for and appreciation of differences in ethnicity, gender, age, national origin, disability, sexual orientation, education, and religion, inclusion is the state of being valued, respected and supported."
For the past five years Mohamed has worked in the healthcare field, holding roles in management and human resources while acting as a cultural broker. As a result of that, Community Staffing Partners was born to do that work at a larger scale where he serves as co-founder and operation manager.
"We help New Mainer job seekers integrate into the Maine workforce while helping Maine employers be culturally competent to retain this talent."
Away from work, he mentors and coaches young athletes in the community. "I was a three-sport athlete at Lewiston High school and was the team captain for the last cross country state championship at Lewiston High. Go Devils!"