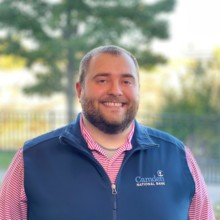 Josh Tainter
2021 Finest Under 40 Awardee
Economic Development
Vice President, Commercial Banking Officer
Camden National Bank
Whether in his role as vice president for commercial banking at Camden National Bank or as co-founder of the Tainter Family foundation which helps local families burdened with the emotional and financial struggle of a cancer diagnosis, Josh Tainter makes a difference in people's lives.
Josh provides financing for housing, business development, and community organizations on a daily basis. Most recently providing financing to help create 50 new housing units in Lewiston and Auburn. He also worked on over 350 Paycheck Protection Program requests providing financing to business in need during the pandemic – providing financing to cover nearly 1,000 local jobs.
"The best part of my career is being able to help entrepreneurs from all different backgrounds achieve their goals whether that be by financing a new building or piece of equipment that will provide efficiencies for the business or if we are providing start up financing for a new business that will be jobs to the region."
He began working in Auburn after graduating from college in 2013 and says that it is easy to gravitate to the area because "the people are genuine blue-collar workers."
He and his wife have two boys, Benson, 4, and Brady, 1, and they both volunteer in youth athletics while enjoying golfing, snowmobiling, and skiing as a family.
Regarding challenges in the area, he sees a shortage of housing as a problem.
"The area needs to continue to invest resources in housing development and allowing investors the flexibility to construct appealing housing units that can draw young professionals to the area."