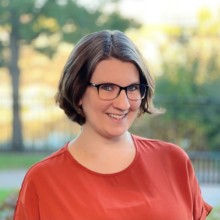 Rebecca Tinkham
2021 Finest Under 40 Awardee
Creative Geniuses
Development & Engagement CoordinatorSafe Voices
Safe Voices
CLT Board Member and RFE Executive and Artistic Director
Community Little Theatre & Rocky For Equality
In her nomination, it states, "Occasionally a volunteer comes along that completely changes how your organization does things. Becca Tinkham is that person for Community Little Theatre!"
As much as Becca has contributed "onstage," it is backstage where she has really made an impact. Becca has displayed great leadership skills as a member of CLT's Board of Directors where she has breathed new life and energy into its development team. As a trained graphic designer, she has also standardized CLT's marketing, helping them to understand the importance of consistent branding – and then ensuring that they utilize it in all things moving forward.
Her other work engages involvement as development and engagement coordinator for Safe Voices as well as serving as the executive and artistic director for Rocky for Equality (ROE).
Safe Voices operates the only shelter and support services for victims of domestic violence and sex trafficking and exploitation in Androscoggin, Franklin, and Oxford counties
As for ROE, "We have been around since 2011 and strive to produce annual productions of The Rocky Horror Show Live which focuses on providing a safe and welcoming space for all, particularly for LGBTQ+ actors and artists.
"I also love spending time with my family. My husband is a musician, and we love working on shows together. We also have four hairless cats, and our first baby is on the way! We are very excited to share our love of music, theater, and art with her."