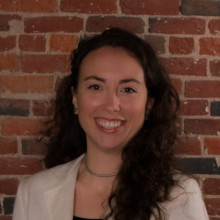 Kate Webber
2020 40 Under 40 Honoree
Education
Lead Educator
Maine State Museum
From a nominator, "Kate Webber is a force of positive energy and she makes things happen. During her time working at Museum LA, Kate helped communicate the history of LA through exhibits and educational opportunities. She was also instrumental in the recent installation of a heritage discovery trail known as "Museum in the Streets" with interpretive signs spanning both sides of the Androscoggin River and both downtowns."
Webber currently works at the Maine State Museum in Augusta where she impacts many lives with her educational programming.
"I get to work with thousands of Maine kids who come through the museum every year. We offer different free educational programs on everything from petroglyphs to mammals. When new exhibits go up, I work on lesson plans that make the content available and hopefully interesting to students," said Webber. "(In short), we try to figure out how we can support teachers in their work."
What brought her to become a museum educator?
"I've always loved sharing stories and ideas with people but could never narrow down to just one field or just one issue to work on. A Bates College professor, Gerry Bigelow, suggested I investigate museum work and I absolutely love it. There's always a new topic to cover, and you can go from a messy kid's science activity in one moment to a formal lecture program on the same day," Kate said. "History helps us understand the present, and I believe museums are an important resource to get people talking, playing, and learning."