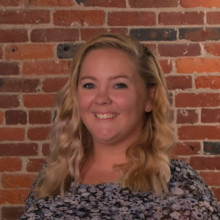 Kayleigh Ogden
2020 40 Under 40 Honoree
Local Heroes
Asset Quality Specialist
Community Credit Union
Kayleigh Ogden is a newcomer to the area who has ingrained herself in the fabric of the community.
"I grew up in central Florida and moved to Lewiston with my husband in 2013. I was introduced to the chamber shortly after which helped me learn a sense of community that I had not experienced before. I choose to work and play in the area to this day due to the tight-knit community feel of a growing population. Despite the great strides and changes to the area, that small town feel of community has stayed constant."
In her work at Community Credit Union, Kayleigh is deeply passionate about making financial success available to her neighbors who are in poverty or new to the American banking system. She spends much of her time working towards financial freedom and independence for these groups of people.
Kayleigh also volunteers for nearly every event that the Credit Union holds or participates in including Community Recycle Day, St. Mary's Commit to Get Fit, the Lake Auburn Half Marathon, the 4th of July Holiday Parade, the Twin Cities Christmas Parade and more.
"The people in Lewiston Auburn are among the most selfless people I have ever come into contact with. Whether you are a generational Mainer or a New American, no one is unseen. The community always comes together to aid in supporting a new business, fundraising for a sick child, or learning about our New American friends and how to better welcome them to our community."